Posted February 9, 2023 in News in Uncategorized
Blue Foundry Bank, a financial institution that offers a full service, crafted banking experience, announced the opening of its new branch location at the Shoppes at Print House, at 120 River Street in Hackensack, New Jersey. The branch invites consumers and businesses into its contemporary, open design concept, created by DMR Architects, reflecting the Bank's reinvention.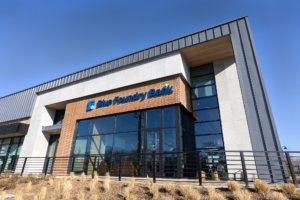 Blue Foundry Bank looks forward to bringing its dedication, service, and energy to the Hackensack community with its tailored Blue Is Here for You service. Customers will enjoy individualized support, delivered by our knowledgeable Universal Bankers, helping them reach their financial goals and get the most out of their relationship with Blue Foundry Bank.
This location features a walk-up Live Video Interactive Teller Machine, combining the convenience of an ATM with the personal service of our Universal Bankers, with extended hours.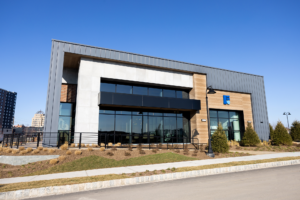 "At Blue Foundry Bank, we're committed to bringing comprehensive financial solutions to the community by creating an unparalleled banking experience," said James D. Nesci, President and CEO of Blue Foundry Bank. "We're proud to be a part of Hackensack's redevelopment and excited to establish the Bank as an integral member of the city for years to come."
To celebrate Blue Foundry Bank's Grand Opening in Hackensack, Grants were provided to the following nonprofit organizations by Blue Foundry Charitable Foundation:
Tomorrows Children's Fund– Founded by a group of committed parents to help their children and others like them with cancer and serious blood disorders. They provide a warm, healthy, and loving environment for children in treatment with a full scope of services to relieve families' emotional and financial stress.
North Jersey Friendship House– Builds the skills of individuals with varying abilities and developmental needs by providing, within a safe haven, comprehensive clinical treatment, vocational training and work opportunities in order to achieve meaningful and productive lives.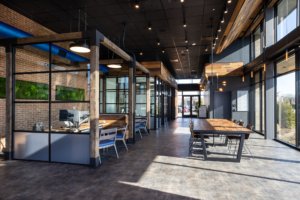 About Blue Foundry Bank
Blue Foundry Bancorp is the holding company for Blue Foundry Bank, a place where things are made, purpose is formed, and ideas are crafted. Headquartered in Rutherford NJ, with presence in Bergen, Essex, Hudson, Morris, Passaic and Somerset counties, Blue Foundry Bank is a full-service, innovative bank serving the doers, movers, and shakers in our communities. We offer individuals and businesses alike the tailored products and services they need to build their futures. With a rich history dating back more than 145 years, Blue Foundry Bank has a longstanding commitment to its customers and communities. To learn more about Blue Foundry Bank visit BlueFoundryBank.com or call (888) 931-BLUE. Member FDIC.